Thick Film Substrates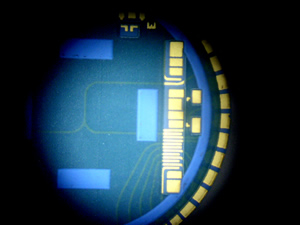 Thick film substrates are ideal for electronic circuits used in environmentally adverse conditions, when high levels of thermal conductivity are required, and space is a premium.  MPT thick film technology is robust, economical, and can reduce the footprint of your circuit.
Thick film substrates are electronic circuit boards generally made from ceramics.  The ceramic is screened with conductor, insulator, and resistor material to form the circuitry.
MPT is a one stop shop for your thick film substrate needs.  We can take your component from design to completed part, including testing, at a competitive price with quick turn-around.
Our thick film substrates have been used in:
submounts
amplifiers
oscillators
synchro converters
resistor networks
regulators
filters
Click to Learn More...