Metallization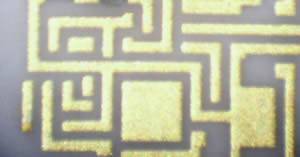 Metallization is the application of metal to the surface of the ceramic.  This process involves screening, drying, and firing the metal paste onto the ceramic.  Metallization screening applies conductor traces and pads to the surface of the substrate.
In addition to screening, metallization can also be applied to vias, or holes through substrate materials.  These vias can be either filled or plated. Vias can also be filled through a dielectric, which connects layers in a multi-layered substrate.
Available metals include:
Gold (Au)
Virtually impervious to anything in the atmosphere—no rust, no oxidation.  Easy to bond fine gold wire to serve as connectors to other components or conductor traces.
Silver (Ag)
Silver has lower resistivity/higher conductivity than gold.  More economical than gold.
Platinum Silver (PtAg), Palladium Silver (PdAg), Platinum Palladium Silver (PtPdAg)
Good for soldering.  More economical than gold.  Most substrates use one of these alloys rather than pure silver for better resistance to oxidation.